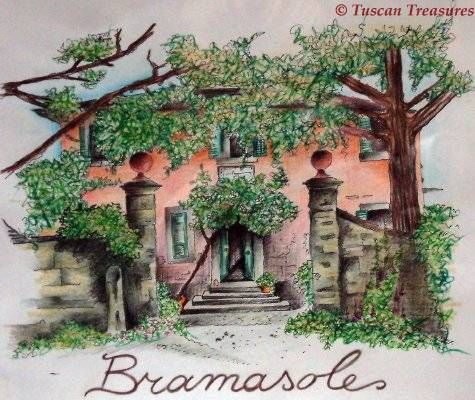 ~Bramasole- To yearn for the sun~
Bramasole is the name of the villa in Frances Mayes' book UNDER THE TUSCAN SUN.
I'm sure you have either seen the movie or read the book-or both.
I love the movie and watch it frequently. It takes me away to a place I love. I like the story too. Not too deep, not tragic and with a happy ending. I think I like the movie so much more than the book because it portrays Frances as a somewhat more hip women than the Frances in the book.
Personally, I'd love to meet this Frances. I'd like to go live with her for a few months. I'd like to eat ice-cream cones in the village piazza, and wish passers-by "Buon Natale" at Christmas.
I would like to cook in her ancient kitchen and have a team of strong men to do all of the chores for me. I would sketch interesting doors and entry-ways all day long and sip cold pinot grigio as the sun sets.
~ Tuscan Window~
I'm trying to get my painting groove back- and I needed this little virtual holiday-if only for a few minutes. I hope your weekend is filled with all of the things that you love most. If you're having trouble kick-starting, try a virtual holiday of a favorite spot or one that you dream about.
See you back here on Monday.